Linocut, Linolschnitt, ЛИНОГРАВЮРА, gravure sur linoléum.
October 8, 2012
Did you know the Russian for linocut is ЛИНОГРАВЮРА? No, me neither. I didn't even know my computer spoke Russian. Anyway, it does, and it has made me realise how anglo-centric my linocut experience is. In fact, our whole online experience is dictated by where we live and what language we speak. We think of the internet as being an international network which links us all together, but in fact it's controlled by a number of factors. If you google 'linocut' in the UK for example (Google isn't even the main search engine in China) you won't find many German artists. But if you search for Linolschnitt you get plenty.
Linocut by Christoph Ruckhaberle
All this is very interesting, but you may be wondering what on earth got me onto this in the first place. Well, I'm writing a book on linocut, a handbook for artists and designers and I want to make it as international as possible. I have come across plenty of great linocuts from the USA, Australia and Europe (Poland has some particularly amazing examples) but I know that there are more to find!
Hubert Tereszkiewicz portrait
In this country we tend to think of linocuts as either something you do at school or something artists make to put in frames. In fact, in researching my book, I am discovering more and more examples of the technique being applied to ceramics, fabrics and other surfaces. Linocuts feature strongly in the street art of people like Gaia and Swoon and there are even animations which are made up of individual linocuts in sequence.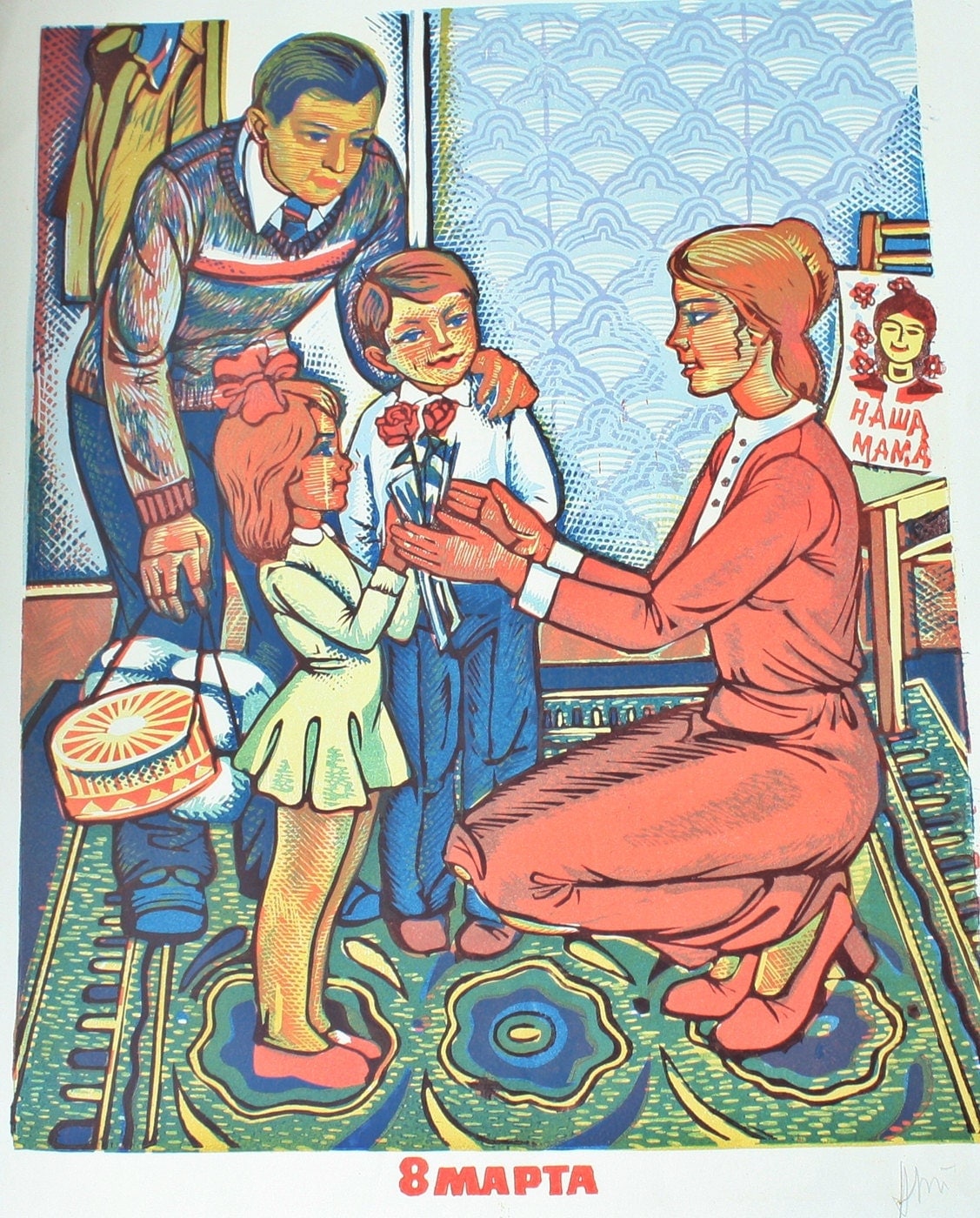 Women's Day poster
In Russia, however, linocuts tend to be linked more to a graphic art tradition. They were used for Soviet propaganda posters and there is also a whole world of woodcuts and linocuts in the folk art known as Lubok. I recently bought this wonderful print of International Women's Day from a Russian seller on Etsy for not very much money. Because it isn't editioned and wasn't produced as Fine Art, we give it a much lower value, at least monetarily. But to a linocut enthusiast like myself it is a tour de force. I'm not sure how many colours there are in it but it's a LOT! And I love all the textures and patterns.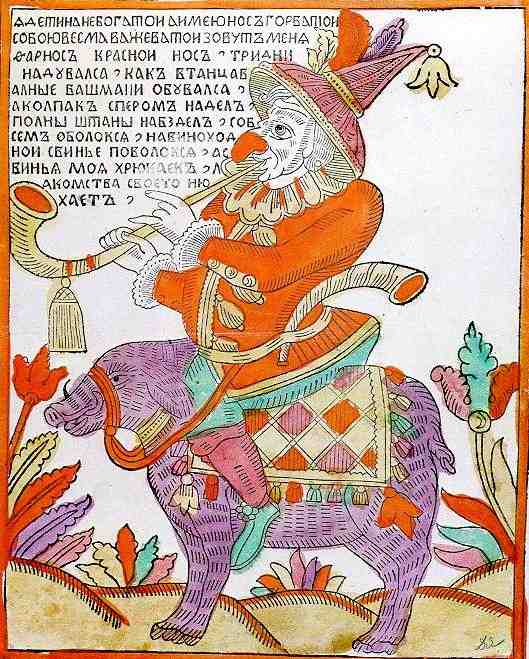 Clown riding a boar
If anyone out there has any more examples of prints like this one, or linocuts from non-Western traditions (including Australian Aboriginal prints) please do let me know and I'll share them on this blog. They might even make it into my book. Без перевода!